BSL SÉCURITÉ'S HEADQUARTERS TEAM
Founded in 1990, BSL Sécurité's structure consists of its flagship office in Paris, located in the prestigious rue du Faubourg Saint Honoré, and  operational headquarters located in the heart of the city of Marseille, on the avenue du Prado. These offices are home to our leadership, HR and legal department, roving operations managers, as well as the entire billing, payroll and administrative departments.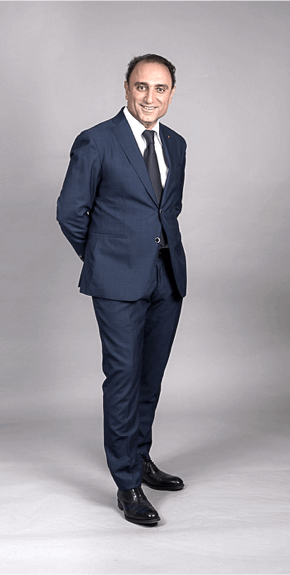 Patrick SENIOR
CEO
CEO and founder of the GROUPE BSL, CEO and founding member of SECURALLIANCE PARTNERS.
Patrick Senior is deeply committed to building and structuring the private security industry through an array of activities. He directly impacted the security union by pushing forward proposals and action plans. He also initiated the establishment of a commission with the Direction Départementale du Travail et de l'Emploi (Departmental Employment and Labor Authority) to fight black market employment. He pays close attention to every single detail and makes sure that all our services convey the corporate values we espouse.

 Lawrence CANU
Strategic Advisor
Lawrence CANY is the startegic advisor of Mister Patrick SENIOR.
He is in charge of the commercial development of BSL Group in France as well as abroad. His main goal is to handle the organic and external expansion of the Group and to supervise the management organization.

 Christophe COSTE
General Secretary
With an accounting training, Christophe COSTE graduated with an DCG, a DSCG and has an experience of more than fifteen years in financial management. This strong professional experience allowed him to gain the necessary skills and qualities to handle the administrative and financial management of the Group. In direct relation with the executive management as well as the Finance department, he is in charge with a lasting and prosperous accounting. His strategic position allows him to collaborate with the different services of the Group aiming at the companies' growth.
Loetitia MÉRIAUX
Director of Operations
With more than 20 years of experience in the security industry, Loetitia MÉRIAUX is working for the good management of the contracts, as well as the officers. She is in charge with efficient operations, guaranteeing the setup of tools and process in order to optimize results. With this in mind, she leads and supports the ISO 45001 certification project undertaken by the Group in 2019.
Christophe SHAUB
Commercial & Marketing  Director

More than 15 years of experience in Commercial & Marketing Management. Thanks to his expertise in business development, he builds, in association with the executive management of the Group, marketing plans and designs operations meant to develop the sales of the company's services.

Marc ALLOUCH
Legal & HR Director
Corporate  Law, Social Law and Ecole Polytechnique graduate, he acts as a consultant in BSL Group's legal operations notably labour, business and private security law, he also runs the legal department. 
His vast expertise allows him to legally safeguard the various tax engineering and social operations in France and abroad. Marc ALLOUCH is in charge of the group's contract negotiation and agreement draftings. He works closely with the HRD, as well as all of the institutions. His skills allow him to have a broad field of interpretation to tackle the challenges associated with the group's rapid growth. He is responsible for legal and social security within BSL Group.

Benoit ROMET
Jurist
Graduated from an International Labour Law education, Benoit ROMET is in charge with transfer and personnel transfer, disciplinary proceeding' follow-ups, management of litigation as well as other missions connected to the legal field. He is the privileged interlocutor of the agencies of Paris and Lyon and ensures the link between the agencies and the headquarters.

Mélanie HORNSTEIN
Jurist
Graduated from an International Business Law education as well as a Master's degree in Labour Law, Mélanie HORNSTEIN is in charge with transfer and personnel transfer, disciplinary proceeding' follow-ups, management of litigation as well as other missions connected to the legal field.

Géraldine LELLOUCH
Patrick Senior's Assitant
Collaborator within BSL Group for almost 5 years, she is an asset in the growth strategy of the company. Thanks to her commercial insight she is able to expand the group's reputation, to ensure the relationship with clients as well as their satisfaction and to define the business strategy with the other departments.

Aline EREDIA
GettGuard's CEO

Bernard TAPIERO
Management Control Manager
With 19 years of experience, Bernard overseas all accounting, billing, payroll and management control services.
Head of the department for 17 years, he is responsible for the financial sustainability of the company, which is classified as F3 by the Banque de France (excellent).

Romain VERNET
Accounting, Administrative & Financial  Department Manager
With more than 15 years in the accounting field, including important international groups, Romain VERNET is in charge with supervising all of the accounting and cash flow of BSL Securité and subsidiaries. His professionalism as well as his experience enable him to manage the French and Tunisian accounting team. On top of all that, he supervises and ensures a sound payroll management.
Daniela CATRINESCU
Payroll Administrator
After completing her work-linked Accounting and Management Diploma within' the Accounting and Finance Department, Daniel CATRINESCU is now in charge with the Group's payroll. She also intervenes on various subjects such as the settlement of accounts, bank reconciliation as well as supplier's accounting.

Sophie ABESSERA
Business Developer
Sophie Abessera is in charge of national expansion and following up with ongoing projects for more than 10 years.
She manages prospecting, appointments, drawing up of proposals, as well as following up with public or private bid solicitations. A few years ago, she started expertly handling our clients in the luxury industry and developed that market segment rapidly. She also is in charge of the quality approach initiated by BSL Sécurité; she often assists and audits established quality control procedures.
Laurence VLIN
Business Developer
Having worked in the service sector, including private security, Laurence VLIN knows perfectly how to manage key accounts. Recently arrived within' the BSL Group, the skills she has gained over her 15 year in commercial development enable her today to participate in the increase of turnover in the Ile de France region.

Valérie GAROUTE
Business Developer
Graduated in a Management Master's degree, Valérie GAROUTE is in charge with managing clients' relationships. She implements the commercial strategy on a national level in collaboration with the team. For such purposes, she ensures the administration of public and private call for tenders, technical dossiers, presentations, as well as prospection.

Barbara FAUQUIER-FERRETTI
Sales, Consulting and Back Office Manager
Barbara Fauquier-Ferreti has a business education coupled with a financial & accounting degree, as well as a 15-year experience in service companies. She leverages this background to deftly manage commercial reporting, management meetings, internal communication and the coordination of commercial & development teams.
As the commercial executive assistant, she is charge with the commercial production's study, evolution, and control as she is the main interface between all the departments of the group.

Severine PARTOUCHE
Marketing and Communication Manager
Severine PARTOUCHE has years of marketing and commercial experience and is a key member of the Marketing department.
She handles web site requests, drawing up and tracking proposals and responses to call for bids for BSL SERVICES & THIFANY and contributes to developing the company's internal and external communication materials.

Nicole SOAVI
Administrative Department Manager
With more than 20 years of experience within GROUPE BSL, Nicole SOAVI handles reception, the switchboard, as well as the follow-up of administrative files.
She is the true interface between the company's external and internal contacts, she participates actively in the life of the company, and is a member of the work council.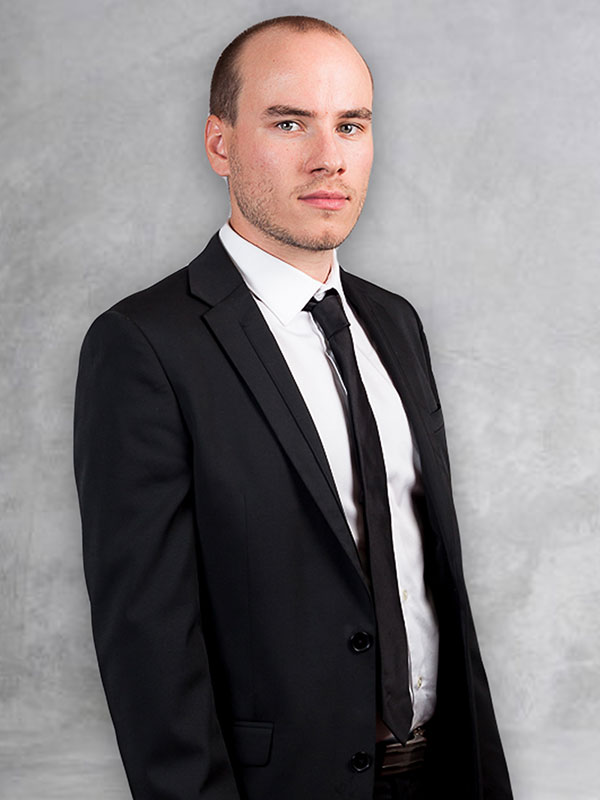 Maxime BRUN
Head of Planning
Planning is the hinge between the client's request and the officers' profile. To establish plannings, Maxime BRUN works upstream with the commercial team, continuously with the operations team and downstream with accounting. 
Thanks to his experience of operations, he is a fulcrum for the company's projects. Statistical source, he retrieves and exploits data from different softwares in order to bring reporting and management tools to the group.
Alexis Margueritain
HR & Recruitment Assistant
Holding a HR Master's degree, Alexis MARGUERITAIN is in charge with recruiting the supervising staff, she handles the management and the training of sourcing tools as well as the technological watch of recruitment trends, while developing partnerships with schools and companies. Her skills and her discipline enable her to also insure the administrative running linked to the supervising staff, interns and apprentices, as well as the staff's training and HR follow-up.
Stéphanie Bagot
HR & training Assistant
Stéphanie BAGOT is currently studying for her HR Master's degree within the Training department of the group. Within the company,  she is in charge with all the management of trainings, as well as the CPF's and the HR projets' follow-ups.
Yohan LEVY
IT – GettGuard Project
Graduated from a famous engineering school, Yohan LEVY joined BSL Group to bring his technical expertise as well as his methodology in digital project management.
His ability to analyse needs, his skills in algorithms and his continuous technological watch, have made him the technical referent as far as website and applications are concerned.
"Because 25 years later, we may think we have had a great journey, but in fact it is the journey that has made us great"
Patrick Senior, BSL Group CEO

PARIS ADDRESS :
65, rue du Faubourg St Honoré – 75008 PARIS
Phone : 01 40 17 07 00 – Fax : 01 40 17 05 12
MARSEILLE ADDRESS :
305, av. du Prado 13008 Marseille
Phone : 04 95 06 90 00 – Fax : 04 95 06 90 01